The image of the Derrynane horn is used by the Kerry Archaeological & Historical Society as its logo.
The artefact was found near Derrynane in County Kerry in the 19th Century and is a fine example of a south-west side blown horn. It is an extremely finely cast instrument and its side walls are so thin that at some point in its playing life the metal broke at the mouthpiece and a weld repair was made.
Its fundamental note is D and it has a particularly deep, haunting tone.
The horn is dated to the Late Bronze Age and is part of the Irish Antiquities Collection at The National Museum of Ireland, Kildare Street, Dublin. The National Museum describes the horn as follows:
Musical Horn; Object Number IA:W12; Late Bronze Age, 800-600 BC.
The Derrynane Horn appears to have been a single find. It has a C-shaped profile and the side-blown mouthpiece is located on the concave surface, one third of the way along from the closed end, which has a ridged, domed terminal. There are six cones and four holes at the bell end. Between the mouthpiece and the closed end there is a ring in a loop and another occurs on the closed end terminal itself. The object has been repaired at the mouthpiece. Full L. 88.0cm.
An article on the Derrynane horn appeared in The Kerry Magazine, Issue No. 13, 2002, 29-30 and may be downloaded below: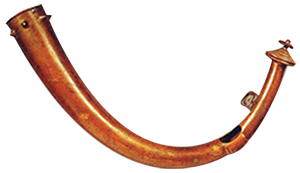 Derrynane Horn